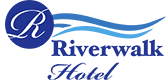 Quick Reservations
Wedding Receptions & More!
Testimonials
Neenah Dining
---
**Special Message: Remington's will be closed for business from March 16th through May 1st for renovations. Hotel guest breakfast will be available at the front desk during this time.**
---
Downtown Neenah has a lot to offer for dining and entertainment!
Check out the list of dining establishments here.
Hotel Calendar
Visit the Riverwalk Hotel Calendar to find out about exciting upcoming events!