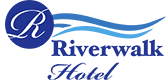 Quick Reservations
Wedding Receptions & More!
Testimonials
Contact Us
Get interactive driving directions from Google Maps
General Information
For questions, special requests, or direct reservations, speak directly with our dedicated Front Desk Staff to answer your questions and to book your next stay!

Phone: (920) 725-8441
Fax: (920) 725-4387
Department Contacts & Additional Information
Looking to get in contact with someone specific? Look no further. Unsure? Give our friendly Front Desk Staff a call, and we would be happy to direct you.

Chadd Scott, General Manager
Direct: (920)725-6523
Fax: (920)725-4387
E-mail: cscott@rwhotelneenah.com

Kimberly McKenzie, Assistant Director of Operations
Phone: (920) 725-8441 x 249
Fax: (920) 725-4387
E-mail: kmckenzie@rwhotelneenah.com

Amber Meyer, Director of Sales & Marketing
Direct: (920) 725-5299
Fax: (920) 725-4387
E-mail: ameyer@rwhotelneenah.com
Hotel Calendar
Visit the Riverwalk Hotel Calendar to find out about exciting upcoming events!